Weekend Masses
Saturday: 4:30 PM
Sunday: 9:00 & 10:45 AM
Children's Liturgy: During 9 AM Sunday Mass

Weekday Masses
Tuesday: 7:00 PM
Wednesday:
8:20 AM at STA
9:30 AM at OLMM
Thursday: 9:00 AM
Friday: 9:00 AM

Reconciliation
Saturday: 4:00 PM
Sunday: 8:30 AM
Before all weekday Masses
Adoration
Tuesday: 6:00-7:00 PM
First Friday of each month: 24 hour Adoration from 4 PM Friday to 4 PM Saturday
Quick Links
Welcome!
Welcome to Our Lady of the Miraculous Medal Parish! Ours is a welcoming and Spirit-filled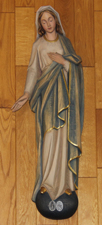 Community; a community whose hearts' desire is to worship Our Lord and Our God in spirit and in truth!
Feel free to browse our website so as to get to know what's happening in our parish family. Most importantly, you are welcome to join in our Eucharistic celebrations on weekdays and weekends, for it is in and through the mass, the breaking of bread, that we encounter the Risen Lord, enter into communion with Him and with each other!
May the peace and love of Christ which surpasses all understanding be yours always!
Parish News
20211017 OLMM Sunday 9AM Mass Zoom Link
Join Zoom Meeting
https://us06web.zoom.us/j/85990877034?pwd=dHIvKzJ5T2RyS1EvN252amo4UGFEUT09

Meeting ID: 859 9087 7034
Passcode: 12401

YouTube Link to follow.


OLMM Parish Office Administrator Job Posting
Our Lady of the Miraculous Medal Catholic is now accepting applications for the paid position of Parish Office Administrator. In addition to being the primary point of contact for prospective and current parishioners, the Parish Office Administrator plays a key role in the efficient functioning of the parish through record keeping, scheduling, volunteer coordination, and various administrative tasks. The Parish Office Administrator works closely with the Pastor to ensure that the needs of the parishioners are met in a thoughtful and compassionate manner.

Please see the full job posting and job description for further details. Competition closes October 17th at 5pm.


September newsletter
Please remember you still have to call or email the office on Fridays from 9:00 am to noon only for weekend masses. All COVID protocols are still in place.


Parish Team
Pastor:
Fr. Anthony Nwaohiri
Deacons:
Thomas Stephenson
Allan Carpen
Office Administrator:
June Paré
Parish Office
Office Hours:
Tuesday to Friday
8:30 am to 12:30

Summer Office Hours:
Tuesday to Thursday
8:30 am to 11:30
Phone:
613-445-3054
e-mail:
admin

olmm.ca
Address:
17 First Ave.
P.O. Box 328
Russell, Ontario
K4R 1E1