Weekend Masses
Saturday: 4:30 PM
Sunday: 9:00 & 10:45 AM
Children's Liturgy: During 9 AM Sunday Mass

Weekday Masses
Tuesday: 7:00 PM
Wednesday:
8:20 AM at STA
9:30 AM at OLMM
Thursday: 9:00 AM
Friday: 9:00 AM

Reconciliation
Saturday: 4:00 PM
Sunday: 8:30 AM
Before all weekday Masses
Adoration
Tuesday: 6:00-7:00 PM
First Friday of each month: 24 hour Adoration from 4 PM Friday to 4 PM Saturday
Quick Links
Welcome!
Welcome to Our Lady of the Miraculous Medal Parish! Ours is a welcoming and Spirit-filled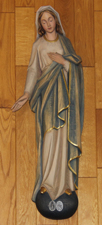 Community; a community whose hearts' desire is to worship Our Lord and Our God in spirit and in truth!
Feel free to browse our website so as to get to know what's happening in our parish family. Most importantly, you are welcome to join in our Eucharistic celebrations on weekdays and weekends, for it is in and through the mass, the breaking of bread, that we encounter the Risen Lord, enter into communion with Him and with each other!
May the peace and love of Christ which surpasses all understanding be yours always!
Parish News
20210620 OLMM Sunday 9AM Mass Zoom Link
Join Zoom Meeting
https://zoom.us/j/94142343219?pwd=SEpQalk0bzNYUmJxSWhZUTRJcU0xUT09

Meeting ID: 941 4234 3219
Passcode: 12401

YouTube Link to follow.


Religious services update
Religious services (includes Mass), weddings and funerals (and baptisms):
Before step 1 (Currently): maximum 10 people outdoors; 10 people indoors.
Step 1 (starting Friday, June 11): outdoor permitted with capacity limited to permit physical distancing of 2 metres; indoor permitted to 15% of capacity of the room which gives us a total of 30 people per mass.

Parishes are strongly encouraged to continue livestream Masses during the Provincial Emergency.

All COVID-19 protocols need to be observed including physical distancing and compliance with rules on face coverings. Capacity limits include priests and volunteers required to monitor capacity restrictions.

For this weekend I am asking everyone who was fortunate enough to attend Sunday masses since the last shut down to please not reserve this weekend so others that haven't been to mass since Easter can attend. We will be back to our old routine of calling or email the office on Friday from 9:00 am to noon only.

We will continue to make the Sunday 9:00am mass available every week on zoom and Facebook.



Parish Team
Pastor:
Fr. Robert Masternak
Deacons:
Thomas Stephenson
Allan Carpen
Office Administrator:
June Paré
Parish Office
Office Hours:
Tuesday to Friday
8:30 am to 12:30

Summer Office Hours:
Tuesday to Thursday
8:30 am to 11:30
Phone:
613-445-3054
e-mail:
admin

olmm.ca
Address:
17 First Ave.
P.O. Box 328
Russell, Ontario
K4R 1E1