Weekend Masses
Saturday: 4:30 PM
Sunday: 9:00 & 10:45 AM
Children's Liturgy: During 9 AM Sunday Mass

Weekday Masses
Tuesday: 7:00 PM
Wednesday:
8:20 AM at STA
9:30 AM at OLMM
Thursday: 9:00 AM
Friday: 9:00 AM

Reconciliation
Saturday: 4:00 PM
Sunday: 8:30 AM
Before all weekday Masses
Adoration
Tuesday: 6:00-7:00 PM
First Friday of each month: 24 hour Adoration from 4 PM Friday to 4 PM Saturday
Quick Links
Welcome!
Welcome to Our Lady of the Miraculous Medal Parish! Ours is a welcoming and Spirit-filled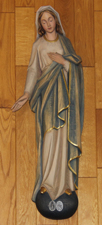 Community; a community whose hearts' desire is to worship Our Lord and Our God in spirit and in truth!
Feel free to browse our website so as to get to know what's happening in our parish family. Most importantly, you are welcome to join in our Eucharistic celebrations on weekdays and weekends, for it is in and through the mass, the breaking of bread, that we encounter the Risen Lord, enter into communion with Him and with each other!
May the peace and love of Christ which surpasses all understanding be yours always!
Parish News
20210912 OLMM Sunday 9AM Mass Youtube Link
20210828 OLMM Saturday 04:30PM Mass - Fr Anthony's Installation Youtube Link
September newsletter
Please remember you still have to call or email the office on Fridays from 9:00 am to noon only for weekend masses. All COVID protocols are still in place.

Fr. Robert would like to express his sincere gratitude for the outpouring of love, messages, cards and gifts he received before his departure to Vancouver. He will miss each and everyone of you. Blessings to all.

Fr. Anthony Nwaohiri Assigned as Administrator this summer

Father Anthony Nwaohiri, of the Diocese of Okigwe, Nigeria, will move from Divine Infant Parish Orleans to Our Lady of Miraculous Medals Russell. Father Anthony, originally from Nigeria, was ordained on July 24, 1993. He holds Bachelor's Degree in Philosophy and Theology, Post Graduate Diploma in Education and Master's Degree at St. Paul's University of Ottawa. Currently, he is writing his Doctorate Dissertation.

Fr. Anthony served as a Junior Seminary Rector and Parishes in Nigeria. He also served as parish administrator in Corner-brook and Labrador diocese in Newfoundland. He started serving the Archdiocese of Ottawa in 2014. Most recently as Associate Pastor at Divine Infant Parish. Father Anthony has intrinsic love for his priesthood and he is a friend to be trusted. He will be joining us on Saturday August 7.

Parish Team
Pastor:
Fr. Anthony Nwaohiri
Deacons:
Thomas Stephenson
Allan Carpen
Office Administrator:
June Paré
Parish Office
Office Hours:
Tuesday to Friday
8:30 am to 12:30

Summer Office Hours:
Tuesday to Thursday
8:30 am to 11:30
Phone:
613-445-3054
e-mail:
admin

olmm.ca
Address:
17 First Ave.
P.O. Box 328
Russell, Ontario
K4R 1E1