Weekend Masses
Saturday: 4:30 PM
Sunday: 9:00 & 10:45 AM
Children's Liturgy: During 9 AM Sunday Mass

Weekday Masses
Tuesday: 7:00 PM
Wednesday:
8:20 AM at STA
9:30 AM at OLMM
Thursday: 9:00 AM
Friday: 9:00 AM

Reconciliation
Saturday: 4:00 PM
Before all weekday Masses
Adoration
Tuesday: 6:00-7:00 PM
First Friday of each month: 24 hour Adoration from 4 PM Friday to 4 PM Saturday
Quick Links
Welcome!
Welcome to Our Lady of the Miraculous Medal Parish! Ours is a welcoming and Spirit-filled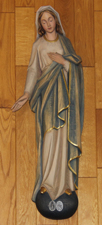 Community; a community whose hearts' desire is to worship Our Lord and Our God in spirit and in truth!
Feel free to browse our website so as to get to know what's happening in our parish family. Most importantly, you are welcome to join in our Eucharistic celebrations on weekdays and weekends, for it is in and through the mass, the breaking of bread, that we encounter the Risen Lord, enter into communion with Him and with each other!
May the peace and love of Christ which surpasses all understanding be yours always!
Parish News
Funeral Mass for Bev Cote
Topic: Funeral Mass for Bev Cote at OLMM
Time: Dec 15, 2023 11:00 AM Eastern Time (US and Canada)
Join Zoom Meeting
https://us06web.zoom.us/j/81035105010?pwd=BBsSWU2tuozpARLRbDu2xzeC3OaRNu.1

Meeting ID: 810 3510 5010
Passcode: 12401


BOOKKEEPER POSITION
The parish is in need of a part time bookkeeper to start as soon as possible. The Bookkeeper is responsible for maintaining a complete and accurate set of records for financial reporting purposes in accordance with generally accepted accounting principles and other general duties. Working knowledge of Quickbooks accounting software and previous bookkeeping experience with a parish is an asset. If interested and qualified, please send resumes to OLMM-Finance Council at admin@olmm.ca.
Please click here for full job description.
15 Sep 2023 - Bathroom Renovations Have Started
Parishioners must use to the front door to enter and exit the church except for those who need to use the elevator. The bathroom in the hall is accessible only this weekend. Next weekend until the duration of the renovation, please use the portable toilet located outside the church.
Parish Team
Pastor:
Fr. Anthony Nwaohiri
Deacons:
Thomas Stephenson
Allan Carpen
Office Administrator:
Jay Caroline Dupuis
Parish Office
Office Hours:
Tuesday to Friday
8:30 am to 12:30

Summer Office Hours:
Wednesday to Friday
8:30 am to 1:30 pm
Phone:
613-445-3054
e-mail:
admin

olmm.ca
Address:
17 First Ave.
P.O. Box 328
Russell, Ontario
K4R 1E1